Please click on your country link to join AMI.  
Joining through the USA, UK or Canada also allows you to join the local AMI affiliated society and receive additional benefits.
Membership in AMI is open to everyone who recognises the value of AMI's work and wishes to support it. With the help of our members we endeavour to realise Dr Montessori's ultimate aim: to support the natural development of the human being from birth to maturity enabling children to become the transforming elements of society leading to a harmonious and peaceful world.
Members meet regularly at the annual meeting in Amsterdam and at international and national conferences, and local events organised by national affiliated societies. Members receive an academic journal and direct mailing news bulletins.
Membership Fees
Fee for one year (USD 45)
Fee for three years (USD 125)
Fee for five years (USD 210)
Life Membership (USD 1200)
AMI members are able to download PDF copies of the publications. Click here to become an AMI Member for an annual membership of US$45. If you are already an AMI member and have a membership code please log in and follow the instructions to enter your membership coupon. If you are a member and don't have a coupon please contact us.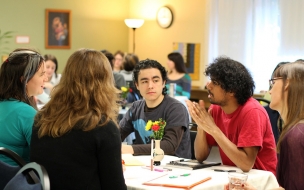 Member Benefits
AMI eBulletins
AMI Journal
10% Discount on AMI Digital Products
Free Access to Extensive Publications Library
Discounted rates are often offered to members at a variety of events worldwide.
Become part of a worldwide community dedicated to the recognition of the unique nature of childhood, natural human development and the rights of the child.
Join our efforts to address social and educational problem situations where positive change can be effected through the education of children.