The Elementary Charts are part of the Montessori Prepared Environment for children aged 6 to 12.
The charts are aids to the imagination. They are presented to children with a story and help the children to visualise what is discussed in the story.
The charts are impressionistic, giving an impression, rather than being an exact reproduction of the factual information. The charts are not meant to be used as a teaching material.  
Some of the charts are fanciful in appearance, as the more striking the image, the more striking the impression for the child's memory.
Some other charts are more factual. But even with the more factual charts, they are usually simplified and are only meant to be a starting point for the children's own research, exploration and discovery. 
On some of the geography charts, what is shown may not be accurate for the area where you live, but they allow you to give a general idea to children. These charts should lead children to carefully selected books, where they will find the latest information. 
Another group of charts is known as the work charts. These charts allow the children to have manipulative activity around some particular idea.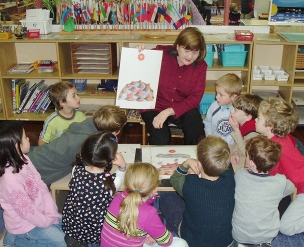 Botany
Geography A
Geography B
Geography W
History
Mathematics